Surkanda Devi Temple Overview
With its interesting activities and pilgrimages, Uttarakhand attracts millions of tourists from around the world. In addition to the well-known Himalayan hiking, it is renowned for its Char Dham Yatra, Mount Kailash, and Mansarovar yatras. The Shaktipeeth of India's 51 sacred sites is the Surkanda Devi Temple. Famous temples and Dhanaulti in Uttarakhand are two of the top day trips from Rishikesh.
Visit Surkanda Devi Temple, known as the Shaktipeeth Temple, and the lovely Kunjapuri Devi Temple. In the Tehri district of Uttarakhand, close to Dhanaulti, is the stunning Hindu temple known as Surkanda Devi Temple, which is perched on a hill at a height of around 2757 meters above sea level.  This temple may be reached on foot in around 3 km from Kaddukhal, where cars are parked, as well as the surrounding hill towns of Dhanaulti (8 km) and Chamba (22 km).
It offers a picturesque view over the surrounding area, including the Himalayas to the north and several cities to the south, and is bordered by thick forests. Between May and June each year, a large number of people attend the Ganga Dussera event. A beautiful perspective is provided by the snow-covered Himalayas and the woodland area that is between Mussoorie and Chamba. Every June, a sizable regional fair takes place here that draws visitors from all over.
Goddess Surkanda, a manifestation of the feminine divine, is the subject of this temple. The temple is renowned for its exquisite architecture, and its setting provides a 360-degree view of the area as well as the snow-capped Himalayan peaks.
Take pictures of the numerous ornate statues while strolling around the temple grounds, especially the goddess that is positioned in front of the temple's main dome. The best time to go is during the spring festival if you want to view the temple decorations in all their splendor.
Surkanda Devi Temple History and Mythology
The tale of Sati, who was the consort of the ascetic god Shiva and the daughter of the Puranic god king Daksha Prajapathi, is one of the most persistent legends surrounding the start of worship at the location. When Daksha offered a massive Vedic sacrifice for all the gods, he left Shiva and Sati out because he was dissatisfied with his daughter's choice of husband.
Despite the fact that doing so would render the sacrifice unclean, Sati hurled herself onto the flames in a fit of wrath. As the supreme mother goddess, Sati instantly transcended her physical form and was reborn as the goddess Parvati. Shiva, meantime, was overcome with anger and anguish over the death of his wife. He carried Sati's body over his shoulder and started a tandava around the sky, vowing to keep going until the body was totally decomposed.
The other Gods begged Vishnu to appease Shiva because they were worried about being destroyed. As a result, Vishnu followed Shiva wherever he danced. He sent his Sudarshan Chakra to obliterate Sati's corpse. Shiva was left without a body to carry as pieces of her body dropped to the ground. Shiva observed this and sat down to do Mahatapasya. Despite the name similarities, academics usually don't think that this account is where the custom of sati, or widow burning, originated.
There are 51 fragments of Sati's body dispersed around the Indian subcontinent, according to various tales and beliefs. These locations, which go by the name shakti peethas, are devoted to numerous strong goddesses. Part by part, the body was dissected. On his trip back to Kailash, Shiva traveled through this area while carrying the body of Sati, whose head had fallen at the location of the current Surkhanda Devi shrine. Due to the head portion of the Sati falling, its name changed to sirkhanda, which eventually became Turkana.
This shrine contains an idol of the goddess Kali. King Indra is said to have honored the mother here and regained his lost realm, according to Kedarkhand and the Skanda Purana. Due to its elevation of around 3000 meters above sea level, this location offers a view of the four dhams' hills, including Badrinath, Kedarnath, Gangotri, and Yamnotri. Come this complex, there is also a shrine for Hanumanji and Lord Shiva.
When one visits the Goddess in this temple during Navratri and Ganga Dussehra, it is thought that their wishes will be granted. King Indra is said to have worshipped the mother here and regained his lost realm, according to Kedarkhand and Skanda Purana. For this reason, it is said that the mother grants the requests of anybody who visits her with a sincere heart.
The leaves of Ronsali, which are served to worshippers as prasad and have therapeutic benefits, are a unique element of the Surkanda Devi temple. These leaves are supposed to bring happiness and wealth into the home, according to Christian doctrine. In the region, it holds the status of Devvriksha. Because of this, no commercial construction or other uses are made of the wood from this tree.
From Maa's court, one can see numerous mountain ranges, such as Badrinath, Kedarnath, Tungnath, Chaukhamba, Gaurishankar, Neelkanth, etc. Maa Surkanda Devi's entrances are open all year long.
How to Reach Surkanda Devi?
The Surkanda Devi temple is located 2 kilometers from the closest settlement of Kaddukhal, and devotees and tourists can access it by hiking uphill. Mussoorie is 40 km away and Chamba is 24 km away from Kaddukhal, which is accessible by motorable roads.
Surkanda Devi Temple by Road: 
To get to Maa Surkanda Devi Temple in Dehradun by road, there are cars available from all directions. A distance of 73 kilometers must be traveled from Dehradun to Kadukhal through Mussoorie. The temple is a two-kilometer walk away from this location. Alternatively, 82 kilometers from Rishikesh can be covered by taking the Chamba route.
Surkanda Devi Temple by Rail:
Rishikesh, Haridwar, and Dehradun are the closest railway stations to this location. From here, you may also reserve a taxi to take you straight from Dehradun to Surkanda Devi through Mussoorie.
Surkanda Devi Temple by Air:
Jolly Grant Airport, located 100 kilometers from the Surkanda Devi Temple in Dehradun, is the closest airport. With regular flights, it is well connected to Delhi, and transportation options from here include bus and taxi. 
What is the Best Time to Visit Surkanda Devi Temple?
The Surkanda Devi Trek is a year-round activity. The months of September to May are the ideal times to visit Surkanda Devi Temple. The greatest and most fun time to travel here is during these months. The weather around here is chilly in the winter. In the winter, Surkanda Devi Temple's temperature dips to 2-3 °C. The entire area is covered in thick white snow sheets, which create an incredible view. On its summit, the first snow of the year also falls.
Wintertime snowfall on the nearby hills causes significant temperature drops in this area. It is challenging to get farther from here because of precipitation throughout the rainy season. The slope gets too slick, so you have to be extra cautious. But now is the greatest time to see the area covered with lush vegetation.
It's possible to experience strong winds practically year-round. In order to trek to Surkanda Devi from October to April, it is advised to wear warm clothing. If you're considering staying somewhere, there are several affordable homestays, opulent hotels, and guest houses in the area, including Kanatal, Mussoorie, Chamba, and Dehradun.
It is a stunning trip with a stunning view of the Himalayan peaks. Therefore, don't hesitate and lose this opportunity because the view will enchant you once you get to the summit.
What do You need to know about Surkanda Devi Temple Trek?
Millions of tourists from all over the world are drawn to Surkanda Devi Trek Uttarakhand by its interesting activities and pilgrimages. It is well-known for its Char Dham Yatra, Mansarovar Yatra, Mount Kailas Yatra, and the renowned Himalayan trekking. Surkanda Devi Temple is Shaktipeeth among India's 51 sacred sites. The journey begins at concrete stairs that lead to the enormous red-painted entry gate.
The 2.5-kilometer-long track is uneven and steep. However, the trail is well-maintained and has a fence along the length of the valley. The Surkanda Devi Trek is the most doable challenge for those just getting started in this sport. You don't need any special skills or equipment—just a short trek that takes a few hours to complete—to have an exhilarating experience.
Plan a day trip to Kaddukhal, the Surkanda Devi Trek's starting point, from Mussoorie, Dehradun, Chamba, or Dhaulanti, for example, and indulge in the alluring arrays of the natural beauty. There are two routes available; one begins in Kanatal and is around 11 kilometers long, while the other is only 2-3 kilometers long and is located near Kaddukhal.
The option available on this excursion is the latter, requiring you to ascend using narrow staircases carved out of the hillside where the Surkanda Devi Temple is perched. The trail is steep, twisting, and concreted up ahead. If you get fatigued, you can take a break on one of the benches that are positioned along the path. The store area, where you may buy prasad, religious supplies, and basic foods and drinks, is about half a kilometer ahead.
You shouldn't make any purchases here. Further down, there are no stores. The trail's surrounding woodland provides a wonderful perspective of the entire area. Both photographers and bird watchers enjoy the walk. The splendor of the mountains is revealed at every trail bend. At any time along the walk, you won't be let down. You will soon come across the spot where shoes and belts made of the leather must be removed, which is close to the temple.
The ropeway endpoint is close by. You are also dropped off by pony alone here. About 100 meters separate us from the temple. The trail lacks a stream or other water source. Therefore, bring 2 liters of water or more for each person. The temple has an open area in front of it and a lot of room all around it, so you can easily take in the scenery. Throughout the entire voyage, you won't be let down at all.
You will soon arrive at the spot where leather belts and shoes must be removed, which is close to the temple. The ropeway's terminus is close by. You are dropped off by pony exclusively at this location. The distance to the temple is around 100 meters. The trail is devoid of any streams or water sources. Carry 2 liters of water minimum per person. The temple is surrounded by spacious grounds and has an open area in front of it where you can easily take in the scenery.
Nearby Attractions to Visit Surkanda Devi Temple
One of Dhanaulti's most popular tourist destinations is Eco Park, which is one of the city's 13 hectares of deodar and oak trees. It was created by the DFO and locals of Dhanaulti to give the underprivileged access to jobs as a means of eradicating poverty.
This location, which is 7800 meters above sea level, has pleasant weather all year long. Eco Park is a fantastic destination for thrill-seeking travelers as it offers adventure sports like sky walking, flying fox, rock climbing, and many more for all age groups from children to senior folks as well as additional safety measures.
There is also a yoga studio and an interpretation center in the park. Furthermore, from this location, one has a fantastic view of the Himalayas. The park is best visited during sunrise and sunset when the sky is heavily shaded. For those who enjoy the outdoors as well as the adventurous, it is the ideal location to relax and spend some time alone.
Dhanaulti Adventure Park: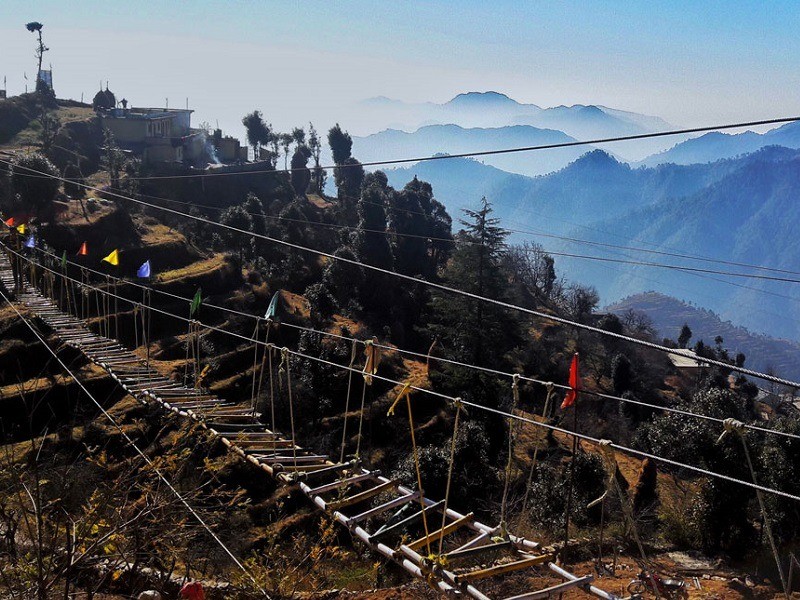 Skywalking, sky-bridge-crossing, valley-crossing, zip-swinging, zip-lining, trekking, rock-climbing, rappelling, paragliding, cave exploration, and many other activities are available. You can locate it in Dhanaulti Adventure Park if you can think of an adventure activity. It has the ideal balance of leisure and adventure and is contentedly located amidst towering hills, snow-capped mountains, and a breathtaking outlook.
Surkanda Devi Ropeway Ticket Price
Dhanaulti to Surkanda Devi Temple distance
When can You see snow in Surkanda Devi Temple?
What is Surkanda Devi Temple Famous For?
What is the location of Surkanda Devi Temple?