An Introduction to Best Churches in Dehradun
On December 25, Christmas Day is observed to celebrate the birth of the child Jesus and to share his message of love and spiritual life in eternity. The twelve days between Christmas and the Epiphany are connected to Jesus' baptism as a newborn. The term "Christmas" is the modern equivalent of the old English phrase "Cristes Maesse," which denotes the Christ Mass. But do you know about the best churches in Dehradun to visit this Christmas?
The Christian community considers Christmas to be the most important holiday, and it is becoming increasingly well-known outside of the Christian community. Christmas has changed in modern times to become a week-long festival of reminiscence, family gatherings, charitable events, and musical excursions. Christmas honors the notion of the warmth and intimacy of family relationships, friendships, and other human bonds while also bringing hope.
It is a season for giving and letting go, even as people enjoy decorating Christmas trees, exchanging gifts, and singing Christmas carols. Christmas is officially here when there is lovely music, delicious food, magnificent decoration, cozy lighting, and Christmas carols. Christmas offers the chance to savor its charming customs and rituals. The heartwarming celebration not only spreads joy to everyone in its path but also welcomes non-practicing Christians into its fold.
The Christmas holiday affects everyone's hearts because it is infused with the spirit of love, giving, and community.
The greatest churches to visit during Christmas in Dehradun are listed below if you're seeking a place to attend midnight mass services. Christmas is quickly approaching.
Best Churches in Dehradun to visit on Christmas
1. St. Thomas Church:
The Saint Thomas Church, which was founded in 1840 and is located on the picturesque Rajpur Road, is thought to be Dehradun's oldest church. The unassuming St. Thomas church, which was built by thirteen East India Company soldiers, features an exquisite Gothic design.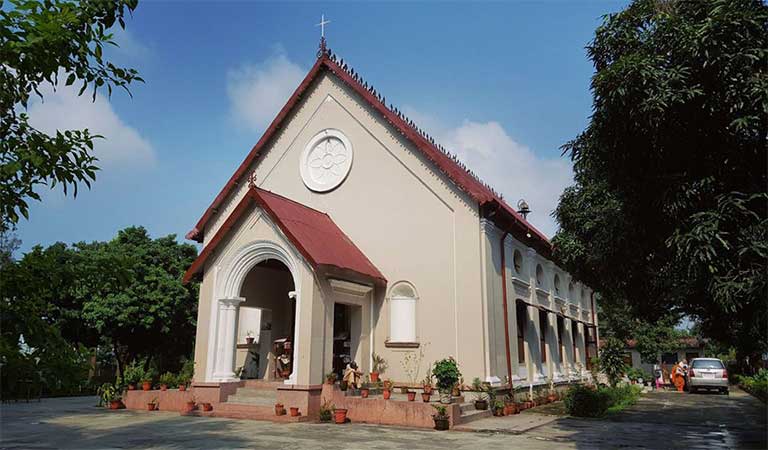 The British soldiers only attended church services at that time at the one and only Garrison Church. You'll be shocked to learn that Sir Cliff Richard, popularly known as the "British Elvis," was baptized here in the year 1940. Sir Cliff Richard was a well-known British singer, performer, actor, and philanthropist.
He is better recognized for creating hits including "Bachelor Boy," "Miss You Nights," "We Don't Talk Anymore," "Mistletoe & Wine," and "The Young Ones," all of which have been covered by top-selling musicians of the present. St. Thomas Church is located in Dehradun's Dila Ram Bazaar on Rajpur Road.
How to reach St. Thomas Church?
It is conveniently accessible by public transportation and is only 2 km from the Dehradun Clock Tower. From Astley Hall, you can either catch the Rajpur road bus or the Vikram No. 1 to get to this church. The closest rail station to St. Thomas Church is in Dehradun, 4 kilometers away. The closest airport to the chapel is Jolly Grant Airport, which is about 30 kilometers away.
2. St. Francis of Assisi Catholic Church:
St. Francis of Assisi Catholic Church is one of the most exquisite Dehradun churches that everyone must see when on holiday in the city. With its massive Gothic architecture and exquisitely painted frescoes that commemorate St. Francis' life, the church is stunning. St. Francis Church, the oldest church in Dehradun, is situated on the Parade Ground and is 115 years old.
It is highly recommended to see, especially if you enjoy history and art. The church, which is arguably the largest in Dehradun, draws a sizable throng on Christmas Day for good reason. Since there was a tremendous throng there on Christmas all day, going there on a regular day will give you peace and tranquility.
3. Central Methodist Church:
Rev. Dennis Osborne founded it in 1885 with the intention of helping Mussoorie's native Christians. Mr. Charles Grant, who is originally from Urquhart Inverness, Scotland, donated the land for the chapel. The church's steeple included clocks on each of its four sides. After the devastating earthquake in 1905, these had to be taken down.
Three of these clocks were reinstalled in 2010–2011 to coincide with the 125th-anniversary festivities. Among the numerous well-known churches in Dehradun, the red-brick Central Methodist Church structure at Chukkuwala stands out. The building's stunning architecture and immaculate surroundings greatly heighten the positive energy.
4. Morrison Memorial Church:
Morrison Memorial Church is among Dehradun's most stunning places of worship. The church, which is in a busy district of Rajpur, and its environs provide a great deal of peace and tranquility that calms every traveler. One of Dehradun's oldest churches is the Morrison Memorial Church, which was founded on August 25, 1884, and has been in existence for roughly 127 years.
Previously called "Dehra Presbyterian Native Church," Morrison Memorial Church is currently known as. The structure exhibits lovely old-world charm and is modeled after American Church-style architecture. The churchgoers take the holidays and Easter seriously.
The Morrison Church is decorated with twinkling lights during the holiday season. And at night, the church edifice shines like a Christmas tree. Many people gather here to celebrate Christmas with one another. Christmas songs are sung by the church's choral group and its members while the pastor preaches the gospel of Jesus Christ.
5. Christ Church:
One of the first Catholic churches to be founded in the Himalayan region was Christ Church. It was formerly called Lord's Church when it was founded in 1836. Eight stunning pre-Raphaelite and Victorian stained glass windows can be found in the church, along with a priceless William Hill organ that was acquired by it in 1880. The church's walls are decorated with colorful glass murals that tell the story of Jesus Christ.
An 1889 bible is preserved on an excellent pedestal that can be disassembled into six sections, and HRH the Princess of Wales planted a deodar tree nearby after visiting the church's morning service in March 1906. Christ Church is a historic and religious site next to the bustling Mall road in Mussoorie's lush environs. The church is a piece of art that the British Raj left behind. It is the Himalayan region's oldest still-standing church.
6. St. Paul's Church:
Bishop Daniel Wilson of Calcutta performed the inaugural consecration of this Anglican church, which had been constructed in 1839. It was constructed primarily as a garrison church that was used by the soldiers stationed at the Landour recuperation depot.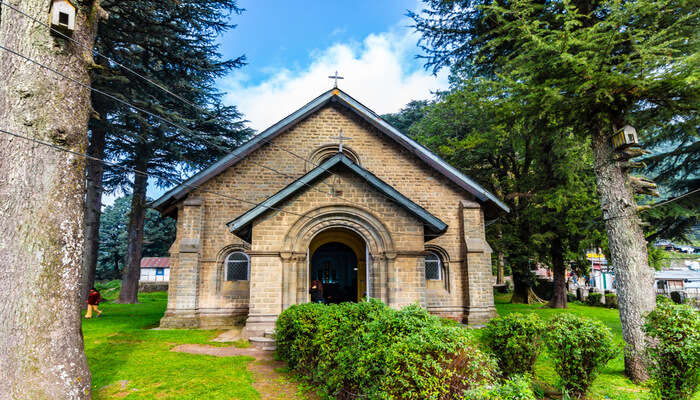 Up until May 2003, the chapel had six pews with holes for supporting guns that soldiers would have brought inside. After the mutiny of 1857, when some unarmed British Soldiers were attacked in Meerut, this safeguard was taken. Here, Jim Corbett's parents, Christopher and Mary Corbett, were wed. In Mussoorie, Christopher worked as the postmaster.
The famed "Char Dukaan," which means "four shops," is flanked by a tiny park in the broad open flat close to St. Paul's Church. The majority of locals that visit Char Dukaan are greeted by the cafeteria workers even before they put in their orders because they are familiar with them.
7. St. John Church:
St. John is a leading contender among Dehradun's churches and is located in the city of Dehradun. This well-known business serves both locals and visitors from various parts of Dehradun as a one-stop shop. Since 1936, this church on Mall Road has been regarded as one of the must-see locations in Lansdowne.
Despite years of abandonment, the church was finally turned over to the GOI in 1951. Along with its lush green surrounds, it boasts attractive interiors that have won the hearts of many tourists. A Roman Catholic church called St. John's Church is located not far from the Lansdowne Main Road's tourist attractions.
8. Reformed Presbyterian Church:
The committee of the Reformed Presbyterian Church of India includes the Reformed Presbyterian Church, which was founded about a century ago. This church has earned a spot on the list of Dehradun's must-visit churches thanks to its stunning design, serene setting, and regular prayers and mass sessions.
Locals and visitors alike come here to take in the magnificent architecture, prayer services, and carol-singing events. On February 1, 1969, two evangelical presbyteries—the North India Presbytery of the Bible Presbyterian Church and the Saharanpur Presbytery of the Reformed Presbyterian Church—met jointly and decided to create a Presbyterian Seminary to train pastors, teachers, and other leaders. These two presbyteries eventually merged to become one denomination.