DEHRADUN CITY: INTRODUCTION
The crossroads of this stunning hill station, one of the most well-known in the nation, is where fascinating mythology and fascinating history meet. Dehradun is encircled by tall mountains and dense Sal forests as it is tucked away in the gently sloping Doon Valley and at the foothills of the Himalayas. But do you know the best places to visit in Dehradun?
The city is a starting point for various well-liked hill stations including Mussoorie and pilgrimage places like Haridwar and Rishikesh. It is also known for having great weather all year round and beautiful surroundings.
Ruskin Bond's innumerable short stories and books are likely what introduced Dehradun to you if you're a literature enthusiast. The city is the center of education in northern India and is home to illustrious schools like Welham and Doon School, which produced luminaries including former Indian prime minister Rajiv Gandhi, Olympian Abhinav Bindra, and well-known author Amitav Ghosh.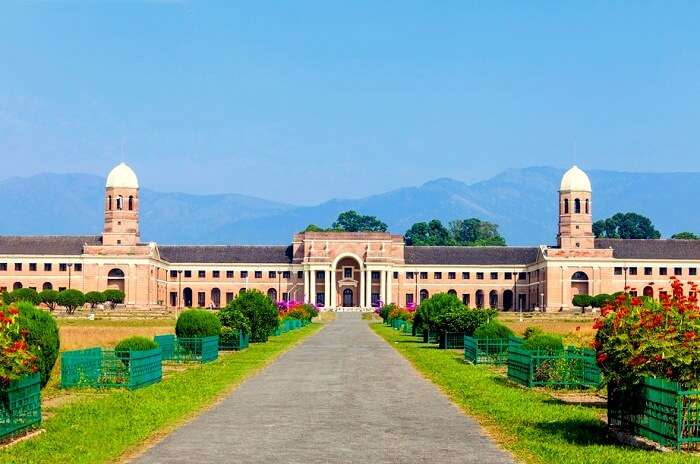 Here is also where the Indian Military Academy is. The city is also recognized as the home of Dronacharya, the illustrious teacher from the Mahabharata epic, and is thought to have been founded by Sikh guru Ram Rai in 1675. Even while it excels in a variety of industries, including construction, agriculture, and education, Dehradun is still renowned for its tranquil, laid-back lifestyle, where the air is clean and the weather is nice. It is situated between the Ganga and Yamuna Rivers, two of the country's most well-known bodies of water.
10 best places to visit in Dehradun
If you're visiting Dehradun for the first time, then here are the 10 best places to visit in Dehradun that you shouldn't miss on your Dehradun tour. But read our blog on the best time to visit Dehradun before further moving on.
1. Sahastradhara Dehradun:
A stunning waterfall close to Dehradun is called Sahastradhara, which is Sanskrit for "thousandfold springs." It is situated along the banks of a little river called Kali Gadd, which is a tributary of the Song River. This Dehradun location, among many others, is worth visiting since it is home to the Sulphur Water Springs, which cascade and have therapeutic properties that can treat skin issues.
A small zoological park called Malsi Deer Park is situated in the Shivalik range's foothills, 10 kilometers from Dehradun. It has a sizable 25-acre size and is presently known as the Dehradun Zoo. Ornithologists will have a great time because they can see a wide range of birds of different types as well as two-horned deer, nilgai, leopards, peacocks, and eagles.
Particularly on weekends, this park is gradually gaining popularity as a picnic spot. Examine the grounds, get some food in the café, and feed the bunnies while you explore the zoological park.
3. Tapkeshwar Temple Dehradun
One of the most frequented temples in Dehradun is the Tapkeshwar Temple, where Lord Shiva is the presiding deity. The primary Shivlinga, which is kept inside the cave, is the temple's most remarkable feature, aside from the fact that it is blessed with naturally beautiful panoramas.
The Shiv Linga was regularly doused in water when the tunnels once contained a river that flowed through them. This place became a hallowed place for the local populace. There are also rumors that Guru Dronacharya, the respected mentor of the Pandavas and Kauravas in Ved Vyas' Hindu epic Mahabharata, formerly resided in this region. Its name is Drona Cave as a result.
4. Robber's Cave Dehradun
Robber's Cave, also called Guchu Pani, is a 600 m-long naturally formed cave with a river flowing inside and small waterfalls. According to legend, this cave served as a haven for thieves during the British era, therefore the name. The strange and amazing feature about this location is that a trickle of water arises miraculously in the Robbers Cave, disappears beneath the ground, and then reemerges a short distance later.
There are many tourists drawn to the area because it is so serene and unspoiled. Robber's Cave is a Dehradun attraction that shouldn't be missed. From Robber's Cave to Mindrolling Monastery, the city has diverse attractions. You can easily rent a car in Dehradun for convenient exploration to save time and enjoy the Dehradun tour.
Khochhen Rinpoche constructed the Mindrolling Monastery in 1965 as a reopened facility of the previous monastery. The largest Buddhist learning facility in India, Mindrolling or Place of Perfect Emancipation, is devoted to the study of calligraphy, the Tibetan lunar calendar, astronomy, traditional Tibetan medicine, and Buddhist classics.
The top tourist destination in Dehradun is a Buddhist temple that is 210 feet tall. The main draws in this area are the magnificent holy shrines of Buddha and Guru Padmasambhava, as well as the exquisite wall paintings that depict Lord Buddha's life and accomplishments. In addition to a lively shopping arcade filled with artifacts, mementos, and trinkets, the monastery complex has grass that is kept neatly trimmed.
A must-see attraction in Dehradun is the Forest Research Institute of India, or FRI, which has six museums and a significant collection of forestry-related artifacts. The majestic colonial-style architecture of the FRI Dehradun, founded in 1906 as the Imperial Forest Research Institute, is breathtaking. The building's centerpiece, designed in 1929 by C.G. Blomfield in the Greek-Roman architectural style and designated as a national historic landmark, is what draws most visitors.
7. Tibetan Market Dehradun
Spend some money at the Tibetan marketplaces close to Parade Ground Road or Rispana Pul. You may get a variety of handicrafts and Garhwali jewelry items in this shop, which is run by the Tibetan community. These will make stunning keepsakes for your loved ones back home. Some of the greatest locations to eat momos and noodles are located in the market.
8. Clock Tower Dehradun
Clock Tower is among the most well-known tourist attractions in Dehradun. The Clock Tower or Ghanta Ghar has a long history that dates back to the period of India's independence. The monument was erected in remembrance of the nation's arduous struggle for independence.
This tower, which was formerly known as the "Balbir Tower," is around 85 meters long and is adorned with a gold plate bearing the names of several independence warriors. Sarojini Naidu, the former governor of Uttar Pradesh, placed the institution's inaugural cornerstone.
9. Lacchiwala Dehradun
Lachhiwala is referred to as a Nature Park and is encircled by Sal trees, surrounded by deciduous bushes, and glistening with the chilly waters of the Susma river. The picnic area's pool, which attracts many nature enthusiasts, is its best feature. Swim at Lachhiwala's artificial pools while soaking up the sunshine.
Tourists also flock to this location for its verdant green forest cover, bird viewing, hiking, swimming, and other exciting activities. The abundance of different bird species makes this area a haven for birdwatchers, and you can even hire a local guide to teach you about the various bird species and the places where you might locate them.
 10. Maldevta Dehradun
Maldevta is a hidden gem of nature in Dehradun's Raipur neighborhood. This stunning location is heaven for nature lovers, with its historic temple and magnificent Himalayan panoramas. Unexplored routes in this area will take you to a charming village that is tucked away among verdant hills and flanked by the trickling River Song. It is a popular destination in Dehradun.
Maldevta is renowned for its outdoor pursuits as well, including bird-watching, camping, bicycling, swimming, sightseeing, and cycling. Maldevta's nightlife is best experienced by setting up your own tents outside, ideally in groups. After dancing around the bonfire all night, you can wake up to the pleasant chirping of birds and the sun's bright light.