About Clouds End Mussoorie
As its name implies, Clouds End marks Mussoorie's conclusion. The tourist destination Clouds End Mussoorie will live up to its name by allowing guests to see the valley, the clouds below their feet, and a panoramic view of the sun setting. The location of Cloud's End is approximately 6 kilometers to the west of the Library.
The entire area is covered in dense jungle, and the Benog Wildlife refuge is reached after a 2 km hike further up. While traveling the route to the site, visitors can see many species of flora and fauna. For its stunning vistas, particularly of the Aglar River Valley, Cloud's End is popular. From Happy Valley, you can walk to the location by taking Hathipaon Road. Tourists can also rent cars from the city center, which are accessible.
The Cloud's End in the 'Hill Queen' Mussoorie is a destination worth spending time in, spread across 2,000 acres of dense woodlands. A significant landmark and well-liked destination for tourists in Mussoorie is Clouds End. This picturesque location enjoys a comfortable environment all year long. While ascending to the forested refuge of Mussoorie, one may take in the picturesque views of the foggy highlands.
How to reach Clouds End Mussoorie?
To get to Clouds End from the well-known Happy Valley, visitors can drive there or hike along Hathipaon Road. Other places to visit near Clouds End include Jwala Devi Temple and the nearby Benog Wildlife Sanctuary. From Mussoorie Library Road, Cloud's End is roughly 7.5 miles away.
By using a car or the Hathipaon Road route from Happy Valley, one can reach this location with ease. Twenty minutes of easy driving from Savoy will get you to Cloud's End, which is a great spot to unwind. Getting a taxi or jeep to this location is simple.
The Dehradun railway station is 37 kilometers from Cloud's End and is the closest railhead. The closest airport for air travel from here is Jolly Grant Airport in Dehradun, which is 62 kilometers distant. With daily flights, Jolly Grant Airport is well-connected to Delhi. You can take a taxi or the Direct Government highway bus, which travels from Dehradun to Mussoorie every day.
What to do When in Clouds End Mussoorie?
In addition to the lush vegetation, Cloud's End showcases the elegance of English architecture. A primitive history structure that is still standing in this location, locked in time, is one of the last remaining examples of British colonialism.

Major Swetenham, a British officer, constructed this structure in 1838. One of Mussoorie's oldest structures is this one.

The bungalow still has its original architecture, furnishings, paintings, literature, and artifacts that reflect the history of the bygone era, and it has been renovated into a historic hotel called the Cloud's End Forest Resort.

Many couples come here to see the dawn and molten sunset from Tibbi Point. You can also engage in various types of recreation, hill climbing is a fun activity for adventurers.

Recreational pursuits for visitors include village visits and photography.
Trekking at Clouds End Mussoorie
Cloud's End, which is surrounded by lush vegetation, gives a stunning view of the Himalayan peaks covered with snow. A beautiful area called Cloud's End is around 6 kilometers away from Library Road. From the well-known Happy Valley, visitors can drive or hike along Hathipaon Road to this stunning natural wonder. It is renowned for its picturesque hillside vistas and comfortable environment.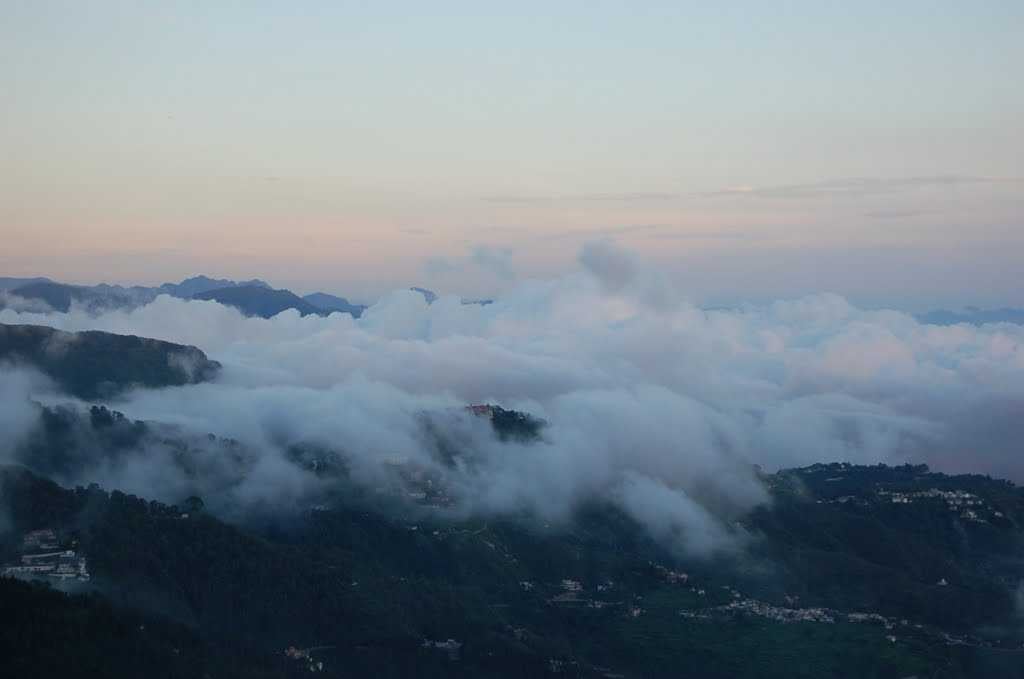 The dense oak and deodar woodlands encircle The Cloud's End. Major Swetenham, a British officer, constructed a historic structure in this location in 1838. One of Mussoorie's oldest buildings, it has been transformed into a heritage hotel. If you want to undertake Clouds End Trekking, the 11-kilometer Bhadraj Temple walk may be simply started from Cloud's End and includes Jwala Devi Temple, one of Mussoorie's oldest temples, which is located at a height of 2100 meters above sea level.
The majority of visitors flock here to worship Maa Durga. Jwala Devi Temple offers pleasing views to nature lovers in addition to being a place of worship. If you want to travel there from Mussoorie, you must hike 2 kilometers from Cloud's End Mussoorie. The temple is located 8 kilometers away.
Biking is a great activity at Cloud's End. Mountain biking is enjoyable all the way up to Cloud's End Resort. The trail is shrouded in mist and fog, adding to the romantic ambiance. Couples who enjoy biking and staying fit can connect via this trail, which will reveal vistas of imposing hills.
Accommodation at Clouds End Mussoorie
A luxurious hotel in Mussoorie is called The Cloud's End Forest Resort. The 10 rooms in this one-story resort provide its visitors with a comfortable stay. Modern conveniences including a backup generator, laundry, room service, a front desk, and doctor-on-call service are fully provided for in this cozy getaway.
The guests receive a complimentary breakfast service. A closet and an adjoining bathroom with hot and cold running water are included in each room. The guests can take a leisurely stroll through the property's blooming garden. Day tours and travel assistance are handled by the travel desk.
In the fall, you may observe streaks of scarlet, mauve, violet, and red splattered across the western horizon at sunset, as if a painter had dropped his palette behind which the sun is setting. A stunning mix of plants, birds, and creatures, including pheasants, leopards, black bears from the Himalayas, barking deer, mountain goats, and more, call their exclusive 400-acre Wild Life Estate home.
44 species of plants and over 104 species of animals. The resort has proven to be incredibly popular with sophisticated outdoor enthusiasts, which validates the marketing strategy used. Most importantly, your privacy is wholly protected. The Bungalow still has its original furnishings, artwork, literature, and other relics from bygone eras.
Attractions Near Clouds End Mussoorie
George Everest Peak:

A short hike to a breathtaking sunset and the villages and valleys below. George Everest, who served as India's Surveyor General from 1830 to 1843, is honored by having the summit bear his name. Under his leadership, the Great Trigonometrical Survey in India was largely finished. 300 meters below the peak is where his residence is situated.
It is one of the well-known locations well-known for camping, picnics, and adventurous expeditions and is only 4 km from Mussoorie. You go through areas of forest that are home to Deodar, Fir, and Rhododendron trees. It is a hidden gem for birders. From the summit, it provides stunning views of snow-covered mountains.

Kempty Falls:

This enormous fall The most well-known and oldest tourist attraction close to Mussoorie is Kempty Falls, which has streams that somersault before they reach the bottom. Kempty Falls, a fascinating picnic spot or ideal day trip location nearby Mussoorie at a distance of 15 miles, was created more than 150 years ago by a British man.

For those who enjoy the outdoors and taking pictures, the stunning Kempty Falls, encircled by towering mountain cliffs and a verdant landscape, is a delight. The waterfall, one of the most well-known attractions in the area, is situated at a height of 4500 feet in the picturesque hill station of Mussoorie. The 50-foot-tall Kempty Falls are captivating to see as they cascade down in five layers of pristine water.

Library Bazar:

Library Bazar is situated on Mall Road. A statue of Mahatma Gandhi located at one end of the bazaar is also known as Gandhi Chowk. With its abundance of stores, restaurants, and gaming dens, the bazaar is one of Mussoorie's busiest areas.

However, what sets it different is the colonial vibe that the road emits through the many types of colonial buildings. The old library, which was constructed in the middle of the 19th century and is located close to the market, is the most notable.

Can we go to cloud end on car?
Do you need to book in advance to visit Cloud's End?
What's the best way to see Cloud's End?