About George Everest Mussoorie
The most tranquil location to visit is Sir George Everest House at Mussoorie, which is perched on a rock overlooking the lovely Doon Valley. Everest House, also referred to as "The Park Estate," served as Sir George Everest's residence, observatory, and laboratory while he was Surveyor General of India. A well-known heritage property is Sir George Everest's Home, George Everest Mussoorie, a 200-year-old house constructed in 1832.
You can see the Great Snow of the Himalayas in all directions from this residence. You are brought to Sir George Everest's home by George Everest Peak. Between 1830 to 1843, Sir George Everest served as Surveyor-General of India and was in charge of a sizable portion of the country's Great Trigonometric Survey. Andrew Waugh and Radhanath Sikdar, who made the first-ever observation of Mount Everest and determined its height, were both employed by him.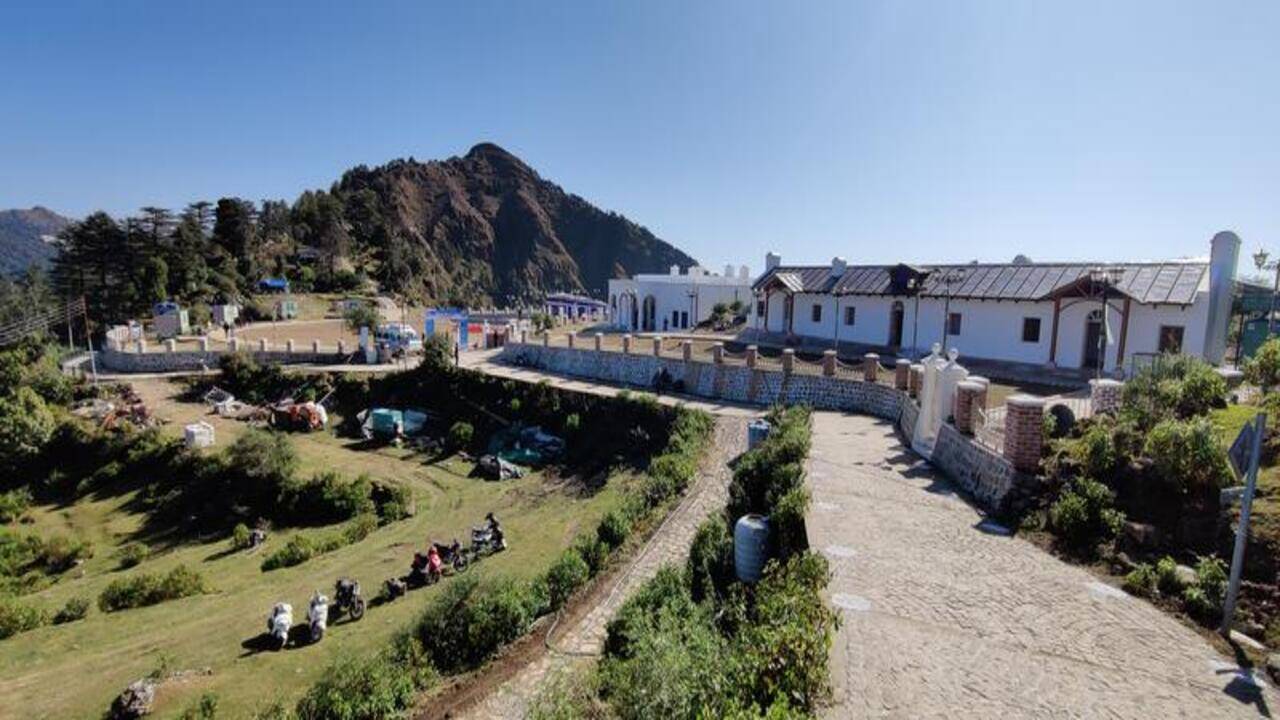 George Everest lives not far from his Everest home—about half a kilometer. To make your way up to the peak, you must hike for 25 minutes. The peak is well-decked with spiritual texts and a flag of the Tibetan people and is located atop the highest peak of the Mussorie range.
For any visitor that came to the Mussorie, this is a must-see location. Steel grills protect the house's entrance and prevent entry. The walls were covered in graffiti and then occasionally bleached clean now that this property is more well-known and the entrance road has been repaired.
History of George Everest Mussoorie
It served as Sir George Everest's residence and research facility. Born in July 1790, Sir George Everest was a renowned surveyor and one of Mussoorie's early residents. Mussoorie is pleased to have him as a neighbor. In actuality, his Park Estate is integrally related to the town's beginnings. Lieutenant Everest was selected as Colonel William Lambton's assistant after being commissioned into the Royal Artillery in 1818.
Colonel Lambton had begun the Great Trigonometrical Survey of the subcontinent in 1806. Colonel George Everest requested permission to move a portion of his office up country before departing Kolkata at the end of 1832 so they could "establish themselves at Mussoorie, where he will hire an office and fix them until such time as the two northern sections of the Great Arc are brought to a satisfactory conclusion."
By May 10th, he had moved into Hathipaon, also known as the Park, an estate he had acquired "at a very heavy cost" from Colonel Whish, who had constructed the Park House in the years 1829–1830. Hathipaon Hill, which is 7089 feet above sea level, is located on the main ridge two miles west of Benog, the highest peak, and roughly three miles to the west of Mussoorie.
The Government of India granted permission for the construction of a workshop and a makeshift observatory in 1839. The George Everest residence is positioned such that one can enjoy panoramic views of both the Doon Valley and the Aglar River valley as well as the snow-covered Himalayan hills on each side of it.
The segment of the Great Trigonometric Survey of India that ran along the meridian arc from the south of India to Nepal was mainly finished by Sir George. The first climbers that were successful on Mount Everest were Hillary and Tenzing. To honor Sir George Everest, this peak was later given the name Mount Everest. To honor Sir George Everest, this peak was later given the name Mount Everest.
Best Time to Visit George Everest Mussoorie
You can visit here at any time of year because it is open all year round. Early in the morning, just before sunrise, would be the ideal time of day. You won't be able to see the scenery around you on a foggy day, which will significantly lower your mood. There is no optimum time to go there; you can go there whenever you choose. However, if you're planning a trip, the greatest times to go are from March to May and from mid-September to mid-October.
There, summers are not as warm. The travel becomes challenging and hard in other months when it is rainy and in winter when there is a lot of snowfall and severe rainfall. The local government closes the roads during the rainy season for the safety of travelers, residents, trekkers, etc. owing to an increased risk of landslides.
How to Reach George Everest Mussoorie?
The George Everest hike is not too challenging because smooth, well-paved routes have been constructed. The journey starts from Park Chungi in Hathipaon and is 6 km from Mussoorie's Gandhi Chowk. To go to the summit, people can hire jeeps, cabs, and taxis. Library It takes 50 minutes or an hour to travel 4 kilometers from the bus stop to Hathipaon Chowk.
First, you can use public transportation to travel to Mussoorie. i.e., a bus from Dehradun Hill Bus Station, which is close to the Dehradun Railway Station. Dehradun is 41 kilometers from George Everest. Dehradun Railway Station is the closest railway station (41 km) and Jollygrant Airport is the closest airport to George Everest House (65 Km).
Things to Do in George Everest Mussoorie
Activities at George Everest Mussoorie include Trekking to George Everest Peak, which is just 500 meters away and is a steep ascent. The summit may be reached in about 30 minutes, and the path is simple. Beautiful vistas may be seen from there.
Camping in Hathipaon and close to George Everest House.
View of snow-capped Himalayas on one end and twinkling city of Dehradun on the other end.
It is famous for day outings and picnics.
Visit the haunted Lambi Dehar Mines. 
Visit Mussoorie, also known as "Queen of the Hills," the well-known hill station of India.
Experience mesmerizing winter line after sunset.
George Everest Mussoorie Trek
Located in Mussoorie on a serene hilltop, the House of Sir George Everest is a ruinous memorial. Aglar River, Majestic Himalayan Peaks, and the Doon Valley can all be seen from the famous mansion, which also offers a stunning view of both. One of the top tourist destinations in Mussoorie, the Queen of the Hills, is George Everest summit. It is one of the well-known locations well-known for camping, picnics, and adventurous expeditions and is only 4 km from Mussoorie.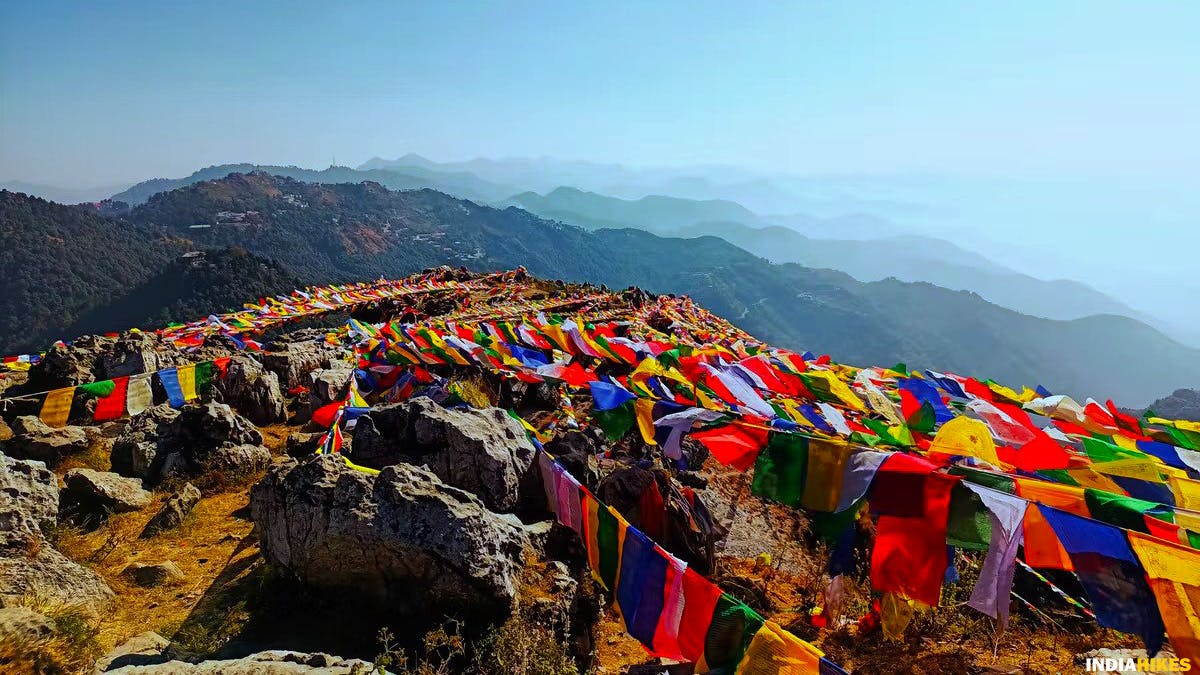 You go through areas of forest that are home to Deodar, Fir, and Rhododendron trees. It is a hidden gem for birders. From the summit, there are stunning views of snow-covered mountains. The trek to George Everest Peak is simple. Both experienced trekkers and fit beginners can complete it. The trek's final leg, nevertheless, is difficult. Before deciding to go on the walk, make sure you are adequately equipped.
Unquestionably rich in biodiversity is the George Everest Trek. From Hathipaon Chowk to George Everest's home, the trail is lined on either side with Rhododendron plants. Depending on your preference, you can either start the hike at Hathipaon Chowk or the Library Bus Stand. You can begin your hike at the Library Bus Stand if you're taking public transportation. If you're traveling by car, you can head straight to Hathipaon Chowk.
The path is excellent and easily navigable for hiking. Benog hill's summit is home to the Jwala Devi temple, from which you may enjoy a breathtaking view over Mussoorie town, the Yamuna River, and the surrounding valleys.
Tourist Attractions to visit near George Everest Mussoorie
Clouds End:

Clouds End, which is encircled by an oak and deodar forest, serves as a signpost for Mussoorie's southernmost point. Around 7 miles from the center of Mussoorie, Clouds End is renowned for its picturesque views of the hills and comfortable atmosphere. Attractions at Clouds End include a heritage structure constructed in 1838 by some British people.

Kempty Falls:

Kempty Falls is a well-liked picnic area and attraction in Mussoorie. There are towering mountain cliffs all around this waterfall, which is 4500 feet high. Swimmers love the pond at the base of the waterfall. The phrase "camp and tea," which previously referred to the lovely evening tea party hosted here and then evolved into the local name for Kempty, is where the name Kempty Falls originates.

Benog Wildlife Sanctuary:

Benog Wildlife Sanctuary, which is a component of the well-known Rajaji National Park, is well-known for its stunning nature trails and wildlife. Among the animals seen in the sanctuary are red-billed blue magpies, endangered quails, deer, leopards, and black bears. For fans of nature and birds, it is the perfect location. You will feel refreshed by the Himalayan peaks and the pine-covered slopes.

Camel's Back Road:

The 3 km long Camel's Back road, located in the center of Mussoorie, is bordered by natural rocks that resemble camel humps. You can glimpse the majestic Himalayas while looking across the Doon Valley. A lot of people go there to watch the sunrise and sunset.

The best way to discover all that this lovely street has to offer is to take lengthy walks or early morning runs along it. You can also see the 180-year-old English graveyard in Mussoorie among the backstreets of Camel.

Jwala Devi Temple:

Temple of Jwala Devi The Jwala Devi Temple, often referred to as "Jwala Ji Temple," is situated around 8 kilometers from Mussorie. This serene location, perched on Benog hill, is encircled by dense woodlands. One of the region's oldest temples, it provides a beautiful perspective of the River Yamuna and the Shivalik mountain range. The temple is also reachable through a 2-kilometer hike from Clouds End.