JW MARRIOTT MUSSOORIE: INTRODUCTION
This five-star hotel is located in a valley in the Garhwal Himalayas, 7 kilometers north of the hill town of Mussoorie. The Mussoorie hill station now appeals to those who desire a touch of luxury with their outdoor adventure thanks to the opening of the JW Marriott Mussoorie Walnut Grove Resort, the brand's first resort and sixth in the nation. There are now five JW Marriott Hotels & Resorts establishments in India, and they are situated in the cities of Bengaluru, Chandigarh, New Delhi, Mumbai, and Chandigarh.
The hotel JW Marriott Mussoorie has a trendy, smart, and elegant aesthetic set in a dreamlike landscape of ancient walnut farms and verdant mountains. With a design that showcases the grandeur of the mountains and a style that is influenced by the region's traditional walnut plantations, this luxury hotel in Mussoorie draws on its Himalayan surroundings. The Den, a family activity center, and entertaining indoor sports like bowling are among the many recreational amenities on campus.
The JW Marriott Mussoorie has a revitalizing wellness center called the Cedar Spa by La'Occitane, as well as a chic gym and an indoor pool that connects to an outdoor pool under cover. This opulent 5-star hotel boasts of its expansive grounds, making it the perfect location for spectacular destination weddings and business gatherings.
JW MARRIOTT MUSSOORIE PRICE
The brand-new JW Marriott Mussoorie Walnut Grove Resort & Spa, which opened in 2014, has a full-service spa, an indoor pool, and a kids' pool. If you don't want to drive, you can take the airport shuttle, which is accessible around the clock for INR 5500 per vehicle one-way. Free valet and self-parking are also available. The front desk's multilingual staff is available around-the-clock to assist with dry cleaning and laundry, safekeeping of valuables, and concierge services. A 24-hour fitness center, a sauna, and free WiFi are also available at this opulent hotel. In the market, a one-night stay package is priced at 30,000. WiFi access keeps you globally connected. 
JW MARRIOTT MUSSOORIE ROOM PRICE
There are 19 different room types at the Hotel JW Marriott Mussoorie Walnut Grove: Studio Suite, 1 Bedroom Suite, 1 King, Balcony, Deluxe Guest room, 1 King, Balcony, Deluxe King with Bathtub & Balcony, Valley View, Guest room, 1 King, Valley view, Balcony, Executive Suite, 1 Bedroom, Non-Smoking, Balcony. Along with free WiFi and wired Internet, guests may anticipate 42-inch LED TVs with satellite channels and paid movies.
Bathrooms have hair dryers and complimentary toiletries, and pillowtop beds have pillow menus and down comforters. Additionally offered are washers/dryers, furnished balconies, and iPod docks. All of these accommodations come equipped with a flat-screen television, an iron and ironing board, an in-room safe, a flat-screen air conditioner, a cushion mattress, and an alarm clock. Additionally provided are evening turndown service and newspaper delivery in rooms. 
Deluxe Room-

₹40,000 inclusive of breakfast for 2 adults only.

 

Deluxe Valley View-

₹46,000 

Studio Suite-

₹48,000

Executive Suite-

₹58,000
JW MARRIOTT MUSSOORIE INSTAGRAM:
View this post on Instagram
JW MARRIOTT MUSSOORIE: WEDDING COST
As the "Queen of the hills," Mussoorie is a wonderful location for a destination wedding. You may design the ideal fantasy wedding amidst the magnificent scenery. The JW Marriott offers seating for more than 300 people. Your big day will be fantastic thanks to the large wedding location and abundance of amenities available there.
This contemporary jewel of a home is likely to meet all of your demands. 500 floating visitors can be accommodated in addition to the approximately 300 guests that can sit in the dining hall. It provides you the opportunity to choose your own designer for your special day and to embellish the location as you see fit.
The establishment sells drinks and provides valet parking for visitors. The price range for the expected package for two nights would be between 50 and 60 lacs, which would include catering, lodging, decoration, DJ and sound, food and beverages, photography, and event implementation. You can personalize the setting and theme of your special day to suit your preferences, which will cost you a little more money but will be well worth it. 
JW MARRIOTT MUSSOORIE: FACILITIES
The 4,198 square foot JW Marriott Walnut Grove Resort and Spa is situated. A huge lawn with magnificent views and five opulent event spaces are available. They personalize your wedding meal and make your day special with the best wedding planners. To ensure the highest degree of safety, comfort, and convenience, guest rooms are offered. The décor, mattresses, and rooms all provide everything you need for a comfortable stay. The patio, which doubles as a dining space, is home to Trout House Grill & Bar. The restaurant offers its guests a vast selection of both vegetarian and non-vegetarian multi-cuisine delights to pick from. 
JW MARRIOTT MUSSOORIE GOURMET
You may be sure to savor each meal and take it at the moment at JW Marriott with a full stomach. They offer individualized menus here based on your preferences. The cooks are excellent and can make any dish, whether it be ethnic, international, or regional. There are four different places to eat at the JW Marriott Mussoorie Walnut Grove Resort & Spa, each serving a different cuisine.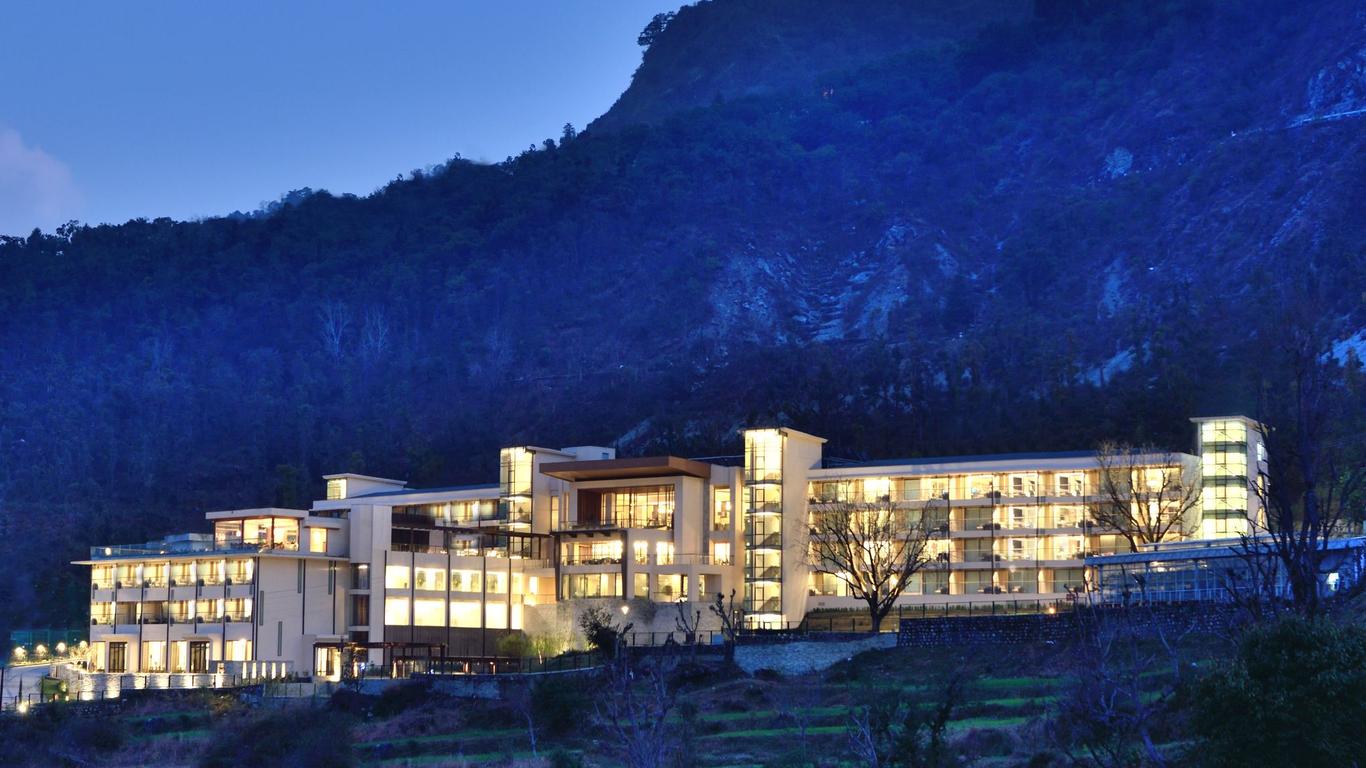 At Teppan, the resort's signature restaurant, you can savor real Pan-Asian fare with your favorite dishes from China, Japan, and Thailand on the menu. Your guests can eat at Trout House Grill & Bar, which has delectable fish and locally produced ingredients, for Indian cuisine with a European touch. Italian food, including pasta and wood-fired pizzas, is available at Wisteria Deck. It is the ideal place to eat while taking in the fresh mountain wind and sipping wine. 
You can also see the reviews of JW Marriott on our blog about the 15 best hotels in Mussoorie.
JW MARRIOTT MUSSOORIE RESTAURANTS
The JW Marriott Mussoorie Walnut Grove Resort & Spa is a five-star resort that is the first of its type in the "Queen of Hills," Mussoorie. It has five unique restaurants that serve a variety of cuisines. These include the Trout House Grill & Bar, an Indian and European grill lounge; Wisteria Deck, an Italian trattoria; the JW Café, an all-day dining establishment; the Perch, a tea lounge; and Teppan, an Asian specialty. 
JW Café in Mussoorie is a fantastic spot to start or end your day because it features a lively open kitchen and excellent all-day restaurant eating. Its menu has a variety of regional and international delicacies. The restaurant's philosophy of offering freshly cooked meals according to the preferences of each visitor is reflected in the open interactive kitchen that is the centerpiece of the modern all-day dining area.
Along with a substantial buffet, the all-day dining offers a sizable a-la-carte menu with traditional Indian favorites including Kali Dal, Nalli ki Nihari, and Tandoori Murg ki Chaap. The famous JW Burger, the JW Club sandwich, and a few continentals and Asian delicacies are also available. Price ranges for reservations range from $1,599 to $4,000 Buffet, seating, validated parking, valet parking, highchairs on-site, alcohol served, free wifi, takeout, full bar, and table service. 
It is the ideal place to unwind with family and friends while enjoying a glass of fine wine from our extensive wine list and enjoying the breathtaking views of the majestic mountains. This restaurant boasts Italian cuisine including wood-fired pizza, Italian pasta, and mushroom soup, and offers casual outdoor seating. The typical bill for two people is around 3000, which covers an average of two appetizers, two main courses, two beverages, and one dessert. Depending on your appetite or changes in menu prices, the actual cost you pay at a restaurant may fluctuate.
The Trout House Grill & Bar is a specialized lounge with a view of the beautiful Northern Garhwal range and is named for the regional river trout. The lounge serves delicious European and Indian grills and has a bar with a selection of creative beverages. The menu at this restaurant includes expertly grilled trout, kebabs, and kheer. At Trout House Grill & Bar, JW Marriott Mussoorie Walnut Grove Resort & Spa, the staff is kind. Another significant benefit is a quick service; several reviewers have noted that the setting is unusual. Without alcohol, the average cost for two individuals is $4100. 
Famous for serving both Chinese and Japanese food, this restaurant. Many visitors note that the servers here serve delicious sushi, fish, and tapas. All year long, the friendly staff at Teppan, JW Marriott Mussoorie Walnut Grove Resort & Spa, welcomes you. Visitors enjoy the quick service offered here. For fans of Asian cuisine, this restaurant is a must-visit while staying. The average price for two people is about $3500. 
JW MARRIOTT MUSSOORIE TOTAL ROOMS

There are 115 rooms at the JW Marriott Mussoorie Walnut Grove Resort & Spa, each of which has an iPod docking station and a washer/dryer. Rooms have balconies that are furnished. Every lodging is uniquely equipped and decorated. Down comforters are found on pillowtop beds.
There is a menu of pillows. 42-inch LED screens come with pay movies and satellite channels. Minibars and coffee/tea makers are offered. Separate bathtubs and showers, as well as bathrobes, slippers, and free amenities, are provided in the bathrooms. Guests at this Mussoorie hotel can access the Internet wirelessly and for free. Desks, free newspapers, and phones are some business-friendly features. Safes and free bottles of water are additional amenities in the rooms. Daily housekeeping is provided, as well as a turndown service at night. 
This room's balcony offers breathtaking views of the Himalayas, which are surrounded by grandeur. This five-star hotel has luxury amenities and large rooms. There are 49 items in total, distributed across about 475 square feet. The private bathroom has a shower as well as a bath and a hairdryer. The view is of a garden.
It looks fantastic in this lovely room with the lovely valley outlook. This room type stands out from other hotel types since it has superior room amenities and complements them with a view. This room type has 56 rooms total, with a spread of roughly 410 square feet. Along with a private bathroom, a bathtub, a shower, bathrobes, and slippers are also included. Cleanliness on a daily basis and climate-controlled heating and cooling. 
This lovely one-bedroom suite has a kind in the bedroom and the choice of a connected room. From the windows, it offers stunning mountain and forest views. This room type stands out from other hotel types since it has superior room amenities and complements them with a view. This accommodation type has 56 rooms total, with a spread of about 410 square feet. 
A king bed, a living room separate from the bedroom, two marble baths, and a terrace with views of Mussoorie's rich vegetation and mountains make up the Executive Suite, a one-bedroom suite. The executive suite's breathtaking view appears to be very pristine and lovely. After performing rituals for restful sleep, you can unwind in the executive suite while enjoying the scenery. There are only two of them, and the spread is about 820 square feet.
JW MARRIOTT MUSSOORIE SPA
At the JW Marriott Mussoorie Walnut Grove Resort & Spa's Cedar Spa by L'Occitane, enjoy a tranquil rendezvous amidst the Himalayan highlands. Take advantage of amazing discounts on the restorative services provided by Cedar Spa to transport your senses into a state of tranquility. Every season brings with it new, revitalizing therapies that Cedar Spa introduces to enhance the comfort and relaxation of every visitor.
Enjoy happy hour with the season's special package, which offers a variety of energizing body treatments lasting 60 minutes or longer, as well as a free reviving face treatment. Additionally, one can rejuvenate all of their senses with a 90-minute spa treatment and get a complimentary body scrub from trained therapists. Utilize one-of-a-kind spa therapies derived from the traditional healing practices of Uttarakhand to rejuvenate.
With Swedish, Hawaiian, Lomi Lomi, Balinese, Shiatsu, and Ayurvedic therapies mixed in unique L'Occitane sequences, Cedar Spa is a paradise for holistic wellness. The "Couple Escape" therapy suite is a 90-minute spa excursion designed to help couples unwind and reconnect. Cedar Spa is a health haven where visitors may experience a complete journey of the senses through treatments, sensory textures, calming music, and herbal teas inspired by Provencal traditions. Spa prices begin at INR 3900 with taxes.
JW MARRIOTT MUSSOORIE BUFFET PRICE
Enjoy a delectable selection of meals with regional and international influences prepared in an interactive open kitchen at JW Café, the all-day dining venue for our hotel in Mussoorie. Authentic Indian favorites and international specialties are available at a large buffet. The cost of the breakfast buffet is ₹1,000.
Also read about Hotel Savoy Mussoorie.