As Rishikesh has been known as the 'Yoga Capital of the World' for decades, a huge number of visitors visit Rishikesh all across the globe each year. The place has become an intrinsic part of India's natural and spiritual culture. In this article, we'll learn about the top 7 best luxury hotels in Rishikesh in 2023.
Widely famous as the 'Gateway to the Garhwal Himalayas', Rishikesh is one of the most famous retreats people love to experience. So, are you planning a visit? We have compiled a list of Rishikesh's best and most luxurious hotels that can offer you a comfortable stay. You can also read about Hotel Savoy Mussoorie in our recent blogs section. 
How To Find The Best Luxury Hotels in Rishikesh?
Whether you are in the city to spend quality time with your loved ones or want to take a spiritual vacation with your family, you can surely have many luxurious hotel choices that suit your budget, purpose, and needs. 
It is advisable to explore the 7 best luxury hotels in Rishikesh and make your trip a total pleasure:
Roseate Ganges, Rishikesh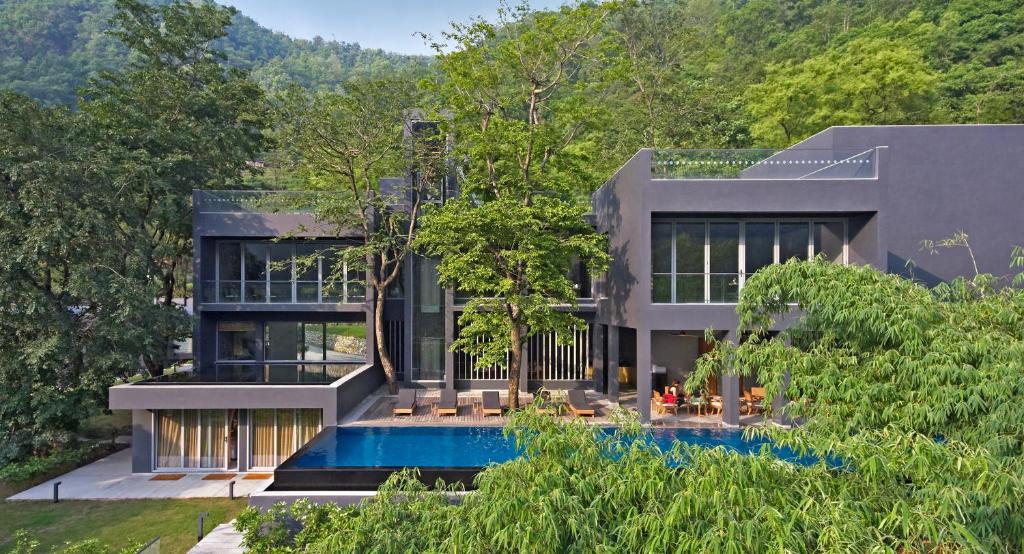 Looking for heaven and peace in the lap of the Himalayas? Stay at Roseate Ganges, a five-star luxury spa resort located in Rishikesh. This place offers holistic wellness through its vast range of therapies. If you're looking for hotels with a serene ambiance, this place at Rishikesh can elevate your stay. 
Attractions at Rosenate Ganges:
Temperature-controlled swimming pool and private balcony rooms. 
Disconnecting from the hassle of daily life and connecting with nature at Aloha on the Ganges is the best thing you can experience. This grand resort offers terrific views and is situated next to the desirable location of the flowing Ganges. Treat your inner self with a choice of wholesome therapies at the resort's refreshing spa. 
Undoubtedly, Aloha on the Ganges is an outstanding choice among visitors to give you an unforgettable stay.
Attractions at Aloha On the Ganges:
Tattva Spa, Mesmerizing views of river Ganga. 
Anand Kashi by the Ganges, Rishikesh – IHCL selections 
Do you want to experience a great stay in the nature and modern luxury Anand Kashi offers? The lavish resort offers an unforgettable experience for the visitors. Nestled against the fruit orchards and full of panoramic views, this property will allow you to wake up to the cheerful music of birds and the pure air. Full of traditional Garhwali architecture with world-class amenities, this place always delights visitors. 
Attractions Anand Kashi by the Ganges:
Infinity pool, Rooftop bar, Private beach, Amrit Kashi Spa, 
Must-try experiences:
Professionally trained in yoga and Meditation experience, guided hikes, and nature trails. 
Taj Rishikesh Resort & Spa
Combining cozy delights and luxury, Taj Rishikesh is a haven hidden at the foothills of the Shivalik ranges. The resort pays a true tribute to the Garhwal region with an eco-friendly habitat and meadowed terraces. 
Attractions:
Adventure treks and nature trails, Yoga pavilion and Jiva spa, health club, doctor on call, and swimming pool.
Nothing could be more special than celebrating your vacation in the lap of the Himalayas and next to the gurgling Ganges staying at Antalya Rishikesh. The place has a lush, picturesque landscape in its backdrop. With world-class facilities, this exceptional resort offers the ultimate comforts to make your stay pleasing and unforgettable. From cozy to luxurious, you can have everything that you need.
Attractions:
Pet-friendly, spa and yoga facilities, sound healing, meditation. 
Lemon Tree Premier, Rishikesh 
If you are visiting Rishikesh for a spiritual journey or on a vacation to unwind, staying at the Lemon Tree Premier will be something you will remember for a lifetime. Renowned for a vast range of facilities and reliable services, this hotel can give you the best experience. Offering many pleasing views of the Himalayas and Gangas, this budget-friendly resort is highly preferable among visitors. 
Attractions:
Vegetarian coffee shop, yoga studio, fitness center, spa, children's recreation room, and outdoor swimming pool.
Ganga Kinare – A Riverside Boutique Resort 
If you expect a detoxifying, soul-cleansing retreat, Ganga Kinare will provide you with that inner peace and satisfaction. Located by the Ganges, this health and wellness resort is luxurious for offering a comprehensive and holistic wellness package. You can even choose from various yoga, meditation, and massage therapies. 
Learn from the trained yoga gurus and indulge in different thrilling activities to experience a refreshing stay in Rishikesh.
Attractions:
Yoga, Ayur Ganga spa, Open-air jacuzzi
Conclusion 
If you think Rishikesh is all about yoga and backpacking, it's time to reconsider. The place will not fail to amaze you with its luxury resorts and hotels. A place full of some of the highest-ranked luxury retreats in India, Rishikesh is a luxurious place. 
Anyone who wants to quit the hustle and bustle of the city's life, check out and explore the available hotels. Staying there will be a sure treat for everyone. All the hotels are mainly by the riverside and far away from the touristy lanes of town, ready to give an "off-the-grid" experience. So, get ready and pick which one you like for your next stay.