Mussoorie Lake: Overview
This historic hill village, often known as the "Queen of the Hills," continues to be a favorite destination for honeymooners and families alike. With its old-world charm, magnificent natural scenery, gushing waterfalls, and mouthwatering regional cuisine, the picturesque hill station in Uttarakhand captures hearts. Mussoorie Lake is Mussoorie's most alluring feature. People traveling to the vacation location all year round are drawn to the breathtaking Mussoorie Lake.
A natural waterfall serves as the source of the man-made lake. The City Board and the Mussoorie-Dehradun Developmental Authority created the artificial lake. On the Dehradun-Mussoorie Road, the lake is situated in a picturesque area about 6 kilometers before Mussoorie. The Dhobi Ghat is where one can get off, and it is only a short walk from there to the lake.
The Doon Valley and Mussoorie's lush hills are seen from the lake's surroundings, which are both breathtaking. The wonderful lakes' tranquility can be experienced by pedal boats. The monsoon is the greatest season to travel to because the lake is at its most picturesque then. The lake is available daily throughout the year and there is a small entrance fee. Refreshment stores are there to provide visitors with refreshments.
How to Reach Mussoorie Lake?
Six kilometers separate Mussoorie Library Bus Stand from Mussoorie Lake. The scenic views of the lush slopes along the road leading to Mussoorie Lake are really welcome. This man-made lake is located along the Dehradun–Mussoorie highway. Dhobi Ghat is where one can disembark and walk to get to the lake. You can also take a taxi to get here as an alternative. The closest railhead is 28 kilometers away at the Dehradun railway station. The closest airport is Dehradun Jolly Grant Airport, which is 53 kilometers away.
Mussoorie Lake Entry Fee
The prices that you must pay for various activities are listed below:
Each person must pay a 15 INR entry fee.

The cost of boating is 30 INR per person.

You must pay 100 INR per person for zorbing.

The cost of zipline is 350 INR per person.
11 Best Things to do in Mussoorie Lake
Mussoorie Lake is one of the well-known destinations for families, couples, and newlyweds who come here to enjoy boating.

There are a few paddled boats to enjoy the tranquility of this miniature lake.

You may stroll around this area and watch a group of ducks and swans flit around.

A lot of tourists come here for picnics with their families.

One can enjoy several adventure activities here such as:

Zip lining,

Mountain

Climbing,

Paragliding.

If you are a photographer; the stunning mountain range will undoubtedly produce many stunning pictures for you. Various Himalayan birds may be spotted perched on the nearby conifers.

Take a nature walk on the walkway created around the lake.
Mussoorie Lake: Nearby Tourist Attractions
Jharipani Falls is a beautiful natural wonder located in a remote area on the Dehradun-Mussoorie route, close to Jharipani village and about 7 kilometers from Mussoorie. To get to the waterfall, one must hike 1.5 kilometers from where they arrive by car. A colorful picture of the majestic Shivalik range may be seen from the lush hills surrounding Jharipani.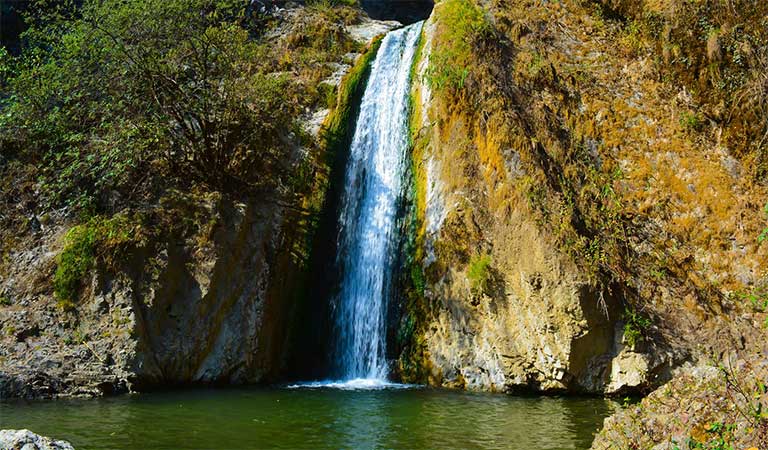 The visitor is brought to the lovely wild nature where the waterfall is making its own soul-soothing symphony by partaking in this short adventure excursion. After monsoon, waterfalls become larger and gushes down with greater vigor, making them more entrancing. The Jharipani settlement is close to well-known boarding schools including Oak Grove School and St. George's College.
Due to its continued absence of large economic operations and commercialization, tourists are drawn to the Lal Tibba. Lal Tibba, which is in the Depot Hill neighborhood's Landour region, offers breathtaking views of the Himalayan mountain range's peaks. The municipality constructed a telescope far back in 1967, allowing people to have a close-up look at peaks like Badrinath, Kedarnath, Banderpunch, and others.
The serene setting of Lal Tibba is soothing in addition to the mountain views. Along with ancient British-style hill mansions, it also has broadcasting towers for All India Radio and Doordarshan as well as military services for the Indian military. The Lal Tibba region has been inhabited for a very long time. It was used as a summer retreat under the British Raj and a recuperation station for the military, which helped it become well-known as a cantonment or hill station.
The Indian Military Services are now residing there. La Tibba, which takes the shape of a tiny terrace, offers magnificent views of the Tibet border.
A joy for nature enthusiasts and photographers, the stunning Kempty Falls is encircled by steep rocky cliffs and rich vegetation. One of the most well-known sights in the area is the waterfall, which can be found in the picturesque hill station of Mussoorie at a height of 4500 feet. . The five tiers of sparkling water that spill down from the 50-foot-tall Kempty Falls are captivating.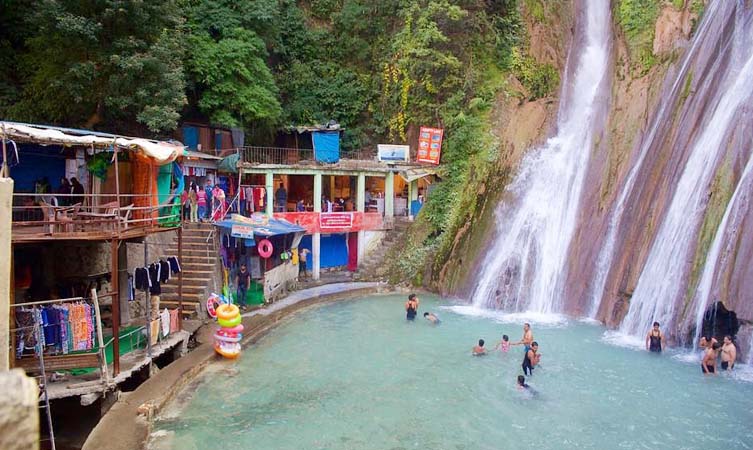 The British officer who created Kempty Fall did so to create a location where tea parties might be held. The name of Kempty Falls, which combines the terms "camp" and "tea," was given by British officer John Mekinan (Kempty). Tea parties were frequently held on this waterfall by British officers. Kempty Falls became a popular tourist destination in 1835. Numerous visitors picnic at Kempty Falls each year, and they also take baths there.
Mussoorie's Cloud's End is a well-known perspective that is much more than just the hill town's main draw. This location designates the town's geographic boundary. It contains a few architectural wonders that are renowned for their majesty and colonial flair.
Since it was built in 1838, the historic structure has stood in this location and witnessed several historical events. British Major F. Swetenham originally resided in that historic building in Cloud's End, which has been transformed into a hotel furnished with all the comforts and amenities of today. From the well-known Happy Valley, visitors can hike along Hathipaon Road or drive to this wonderful natural destination.