Pacific Mall Dehradun – Overview
Dehradun has consistently been under pressure to expand, urbanize, and meet population growth demands. These places are now widely frequented on the weekends by families and students. Some of the most well-known domestic and international lifestyle brands may be found in the Pacific Mall Dehradun. In Dehradun, Pacific Mall is the largest mall. This mall was built by Pacific India, a reputable building firm in India.
The Shivalik Hills, a mountain range of the outer Himalayas, surround the lovely town of Dehradun, which is situated in the Doon Valley. The market in Dehradun is renowned for its shopping. Ashley Hall, Paltan Bazaar, and Raipur Road are a few of its well-known markets. Numerous shopping facilities that have been built in recent years have completely changed the city's shopping culture.
Due to its scenery, transportation choices, and educational institutions, the Dehradun area has malls, which are a relatively recent concept developed to keep up with the influx of tourists. Despite being a recent addition to the city, Dehradun's malls have grown in both quantity and caliber.
The Pacific Mall in Dehradun is the go-to shopping and entertainment destination in the heart of Uttarakhand, offering more than 200 brands at your leisure, mouthwatering treats at its food court with over 15 food and beverage brands to choose from, a big food court, cafes, a PVR movie theatre, and a gaming zone.
Throughout the year, Pacific Mall holds a number of concerts, festivals, flea markets, and a Black Friday sale in November or December. Visitors are entertained at Pacific by musical groups, celebrities, dancers, and a variety of other performers. Pop musicians like Hard Kaur and some well-known stars have also performed here.
Amazing Facts about Pacific Mall Dehradun
The structure includes even the luxurious Lemon Tree Hotel. Leading companies from around the nation and the world have joined forces to provide shoppers in Dehradun and the neighboring areas with an unmatched shopping experience.

For fun, entertainment, and real shopping, people travel from all around the city and beyond to this place. At least 25k customers are welcomed daily by more than 175 selected companies.

The five-screen PVR multiplex situated in front of the well-known food court Salt is the ideal place to go for entertainment and pleasure. Additionally, tourists stay in the Funky Kingdom for hours on end.

There is something for everyone in the Funky Kingdom, a play area. By private vehicle, bus, or Vikram, you can get to Pacific Mall Dehradun without any difficulty.

Pacific Mall Dehradun is located 8 kilometers from the railway station and 13 km from the ISBT Bus stop.
Pacific Mall Dehradun Architecture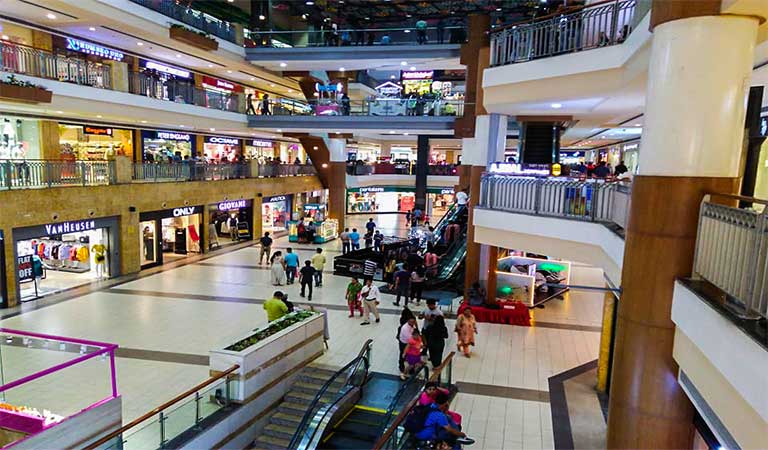 The popular Pacific Mall is where people go shopping, eat, and live in Dehradun. It was the start of this ground-breaking initiative in 2013, which eventually developed into the premier shopping complex in Uttarakhand.

A 3-acre property in Dehradun on the Mussoorie Road with an 85 m frontage and the scenic Mussourie Hills as a backdrop presented quite a challenge due to its terrain, which included a 17 m drop on the site's north-western side.

Utilizing the land parcel's inherent contours for the development plan was the solution. The basement area is naturally illuminated and ventilated and is being designed along the contour.

The basement area is naturally illuminated and ventilated and is being designed along the contour. With direct access to the parking levels from the mall, a precise and effective parking design provided customers with a hassle-free parking experience.

The creation of numerous gathering areas in the center was prioritized. A 10,000-square-foot rectangular atrium feature that serves as a spacious indoor advertising area and conveniently connects the mall's several levels of retail is planned for the center of the mall's footprint.

Indoor plaza spaces with fashion anchors and generic stores are more trade-focused, while outdoor piazza spaces with their leisurely, laid-back, and restful ambiance create the ideal complement.

A food court on the third floor with three volumes overlooks the main atrium and has a view of the Masuri Hills on the north-western side.

The food court is already well-liked due to its vast volume of space, diffused natural light, and international cuisine brands.
Attractions at Pacific Mall Dehradun
If you're at the Pacific Mall in Dehradun, you shouldn't miss a trip to these centers of attractions in Pacific Mall Dehradun.
PVR Multiplex Theatre:
One of the top companies in Dehradun, PVR Cinemas in Pacific Mall Dehradun is well-known for its cinema halls, multiplex cinema halls, and other services. PVR, one of Dehradun's most popular shopping destinations, is located on the second floor of the recently opened Pacific Mall Dehradun, which has a total of 5 screens. PVR provides an extremely high level of convenience for watching movies and comes with hassle-free online booking & entirely advanced features.
The design concept, which is novel and appealing to audiences, is one of a crushed paper appearance. It will open in the city as the fourth multiplex after Big Cinemas, Glitz, and SilverCity. One of the Indian film franchises is PVR Ltd., originally Priya Village Roadshow Cinemas. The first multiplex theatre was built by PVR, one of the biggest exhibition businesses in the world, in Saket, New Delhi, in 1997, sparking the multiplex revolution in India.
Funky Island:
Only at Pacific Mall in Dehradun, Funky Island is a must-visit gaming area for kids to experience fun and much more than just standard games. Funky Island is a place of fun, excitement, and joy where you can bring your kids and let them be. Funky Island is a luxurious 6,200 square feet of cutting-edge family entertainment with exhilarating rides, bumper cars, and games that are impossible to put down.
The presence of a food court in front of Funky Island is a benefit for visitors. Delhi's cultural heritage is as vibrant as its cuisine, which includes KFC, Subways, and other well-known eateries to satisfy a variety of palates.
Food Court:
There are many different options for national and international cuisine at the Salt food court at Pacific Mall Dehradun. The Pacific Mall's food court's extensive selection of offerings is a source of unbridled culinary pride. We have a variety of well-known fast food brands at our Food Court, serving everything from delicious street food from India to Oriental cuisine, Mughlai to Continental, Pizzas, and Burgers to sweet, sinful Donuts.
Discover all cuisines in this Salt Food court at Pacific Mall, including Mughlai, Punjabi, and South Indian. With a seating capacity of roughly 350 people, Salt is a great spot to host birthday and cat parties as well as enjoy the cuisine. The colorful furniture and contemporary decor go well with the delectable cuisine.
Brands Available at Pacific Mall Dehradun
Large, well-known chain stores including Lifestyle, Max, Pantaloons, and Market99 are located in the Pacific Mall in Dehradun. The unmatched alternatives are cutting-edge and in style, offering a variety of clothing from various sub-brands that combines elegance and freshness.
The Adidas Group, which consists of the sportswear brand Reebok, the TaylorMade-Adidas golf company (including Ashworth), and Rockport, is owned by Adidas AG, a German sportswear manufacturer. Adidas manufactures a variety of goods in addition to sports footwear, including bags, shirts, watches, sunglasses, and other items linked to sports and clothing. There are countless options at Adidas, from ultra-hip clothing to chic and cozy footwear.
Your hunger can be satisfied by food that is prepared with affection and has a variety of tastes, flavors, and spices. One such company that upholds the principles of authenticity and purity is Amritsari Express. Because the cooks are rooted in Amritsar, the food is wonderful and truly authentically North Indian. The premium family-style North Indian fast food chain Amritsari Express offers a variety of Amritsari delicacies.
The brand was established in 2005, and since then it has only grown. At Amritsari Express in Dehradun, you should sample the renowned real Amritsari cuisine. Amritsari cuisine, drenched in copious amounts of ghee and butter, never fails to please. You may taste the most authentic kulchas because the flavors in ours are taken directly from Amritsar's kitchens.
One restaurant that encourages all cuisines is Andaaz – E – Lucknow, which gives its patrons the opportunity to sample all kinds of spices and flavors. Mughlai, biryani, rolls, North Indian, and other delectable cuisines are served in the restaurant. It is renowned for offering excellent service in the following categories: Indian Restaurants, Dinner Restaurants, All Day Dining Restaurants, North Indian Restaurants, Multicuisine Restaurants, and Inexpensive Restaurants (Below Rs 500).
Within the ultra-premium Armani family of brands, Armani Exchange, a sub-brand of Armani, delivers the most approachable and affordable fashion lines. For the American mass market, Armani Exchange was established in 1991 to provide young, fast-fashion street style. The company is well-known for its colorful and playful designs, and both youngsters and those in their mid-thirties are fans of it.
For customers who are establishing their personal style and are eager to experience the look and feel of designer goods, the brand is the ideal place to purchase. Today, Armani Exchange is present all over the world, providing enthusiastic young customers with high-end yet reasonably-priced apparel. 
Aroma Thai Spa & Massage:
The most undervalued type of therapy and exercise that most people do not think about is relaxation. You will have a once-in-a-lifetime experience at Aroma Thai Spa, which will aid to soothe and relax your senses. In 2008, AromaThai first opened its doors. AromaThai is the first Thai Chain of Spas to introduce authentic Thai Massage & traditional treatments to India, with more than ten years of excellent services.
The spa's most well-known services include body scrubs, body masques, foot treatments, face, and head massages, Thai herbal compresses, and many other services that promote relaxation.
A high-end leather accessory and home furnishings brand is called Da Milano. The company is renowned for providing a lifetime servicing warranty with each of its goods. At a Da Milano location in India, customers can find handbags, portfolio bags, travel bags, wallets, and accessories. Da Milano items are renowned for defining luxury and high quality since they are made from the best leather and premium Italian fittings.
Belgian Fries have a big range to choose from when it comes to fries. They have gone above and beyond to give you the greatest fries in addition to the delectable brunch you desire. You will have many more options than just french fries, from the flavor of authentic Mexican food to the delectable flavors of India. In addition to all the fries, they also have great pizzas and burgers.
The greatest pizza restaurant close to Bhagirathi Puram and Doon Vihar is Domino's Pizza Pacific Mall in Dehradun, which also has a welcoming atmosphere. Enjoy the range of services, which includes takeout and pizza delivery.
Customers looking for a cheap and value-oriented lunch choice have embraced their efforts like Fun Meal and Pizza Mania with fervor. With delectable new goods like crusts, toppings, and flavors that appeal to Indian consumers' palates, they have been inventing.
The Grotto family in Italy manages and owns GAS, commonly known as Gas Jeans, a well-known premium clothing and denim company. The company was started by Claudio Grotto in the early 1970s and caters to today's youth with simple, unique, and functional clothing.
Men's, women's, and children's apparel, footwear, and accessory lines are created, produced, and distributed by GAS all over the world. Since its wildly successful launch, the brand has expanded to over 56 countries and over 3000 outlets globally. The word essential best describes how our brand philosophy has evolved.
Who is the owner of Pacific Mall Dehradun?
Pacific Mall Dehradun is owned by the Pacific Mall Condominium Corporation.
There are more than 200 National and International brands available in the Pacific Mall Dehradun. Here is a complete list of brands available in the pacific mall of Dehradun.
ADIDAS
ALOPAZ
AMRITSARI EXPRESS
AND
ANDAAZ- E- LUCKNOW
ARMANI EXCHANGE
AROMA THAI
ARROW
ASICS
BATA
BELGIAN FRIES
BLACKBERRYS
BURGER KING
CALVIN KLEIN
CROCS
DA MILANO
DOMINO'S
DUNKIN DONUTS
FOREST ESSENTIALS
FOREVER NEW
FUNKY ISLAND
FUTURE WORLD
GAS
HOME CENTRE
HUSH PUPPIES
IBADAT
JACK & JONES
JOCKEY
JUST WATCHES
KAMA AYURVEDA
KATHI BITES
KEVENTERS
KFC
Kidoverse
LIFESTYLE
LOOKS
MADAME
MANYAVAR
MARKET 99
MARKS & SPENCER LINGERIE
MAX
MEENA BAZAAR
MINISO
MOHANLAL SONS
MOTHER CARE
MOTI MAHAL
NEW U
NIKE
NIRULA'S
NYKAA LUXE
OCTAVE
ONLY
PETER ENGLAND
PUMA
REEBOK
SHELFEBOOK
SKECHERS
SPYKAR
SUBWAY
SUPERDRY
THE BODY SHOP
THE SHOE TREE
TITAN EYE PLUS
TOMMY HILFIGER
UNDER ARMOUR
US POLO ASSN
VAN HEUSEN
VAN HEUSEN INNERWEAR
VAN HEUSEN WOMEN
VERO MODA
W
WOODS
XTEP
You can watch movies, take a massage at Spa, enjoy food in the food court, and pick lots of classy clothing and beauty products at the pacific mall in Dehradun.
What is Pacific Doon Book Fest?
At a Glance
Everything from name-brand clothing and accessories to a food court, a PVR, a game area, and budget-friendly stores like MAX and Bata can be found in Pacific Mall. It is a location where you may spend the entire day without spending hours in the same spot, enjoy a movie or game, and eat a variety of foods in the food court, including KFC and masala dosa.
Additionally, Lifestyle Showroom gives you the option to select your preferred apparel and accessories from a variety of brands, like Puma, Nike, Adidas, Vero Moda, Peter England, Tommy Hilfiger, Sketchers, Reebok, Superdry, and others. One of the nicest locations in Dehradun to hang out with your friends and eat some incredible food is here.