The Rashtriya Indian Military College, fondly known as RIMC, is an esteemed institution perched atop Dehradun's lofty hills. Since its inception in 1922, it has been a veritable cradle of military education, training, and grooming of young men who aspire to serve in the respected Indian Armed Forces. As one of India's oldest and most prestigious military academies, RIMC has carved a niche by honing the skills of several illustrious officers who have emerged as shining beacons of the Indian Army, the sovereignty of our nation. 
History of RIMC Dehradun:
RIMC Dehradun was established in 1922 to train young boys to enter the Royal Military Academy Sandhurst, UK. The institution was initially called the Prince of Wales Royal Indian Military College and was renamed RIMC after India gained independence in 1947.
Over the years, RIMC has produced several distinguished alums who have gone on to serve the nation with distinction. Some of the notable alums of RIMC include Field Marshal Sam Manekshaw, General K. Sundarji, General V. P. Malik, and Admiral Nirmal Verma, among others.
Procedures for Entrance in RIMC Dehradun:
First, you need to send a self-addressed stamped envelope and a copy of your caste certificate. Then, you can obtain the prospectus/application form and a booklet of previous question papers from the Rashtriya Indian Military College, GarhiCantt, Dehradun, Uttarakhand, Pin Code 248003, through a speed post. An incomplete or unreadable address will result in a postal delay and prospectus loss, for which RIMC will not be held liable. Alternatively, you can pay by clicking the link on the website's home page, and the prospectus will be mailed to the address you give.
Admission Process at RIMC Dehradun
Admission to RIMC Dehradun is open to boys between the ages of 11½ and 13 years studying in Class VII or VIII. The admission process consists of a written interview and a medical examination.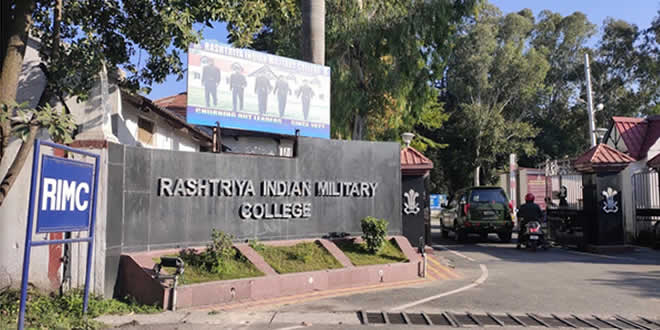 Students are chosen based on how well they score in the All India Entrance Examination, which is administered twice a year and consists of written tests covering English (125 marks), General Knowledge (75 marks), and Mathematics (200 marks). Succeeding students are then invited to a Viva-Voce test. (50 marks). The interview is conducted by a panel of experts who assess the candidate's personality, intelligence, and suitability for military training. Finally, the medical examination is conducted to ensure the candidate is physically fit to undergo rigorous training at RIMC.
Selected candidates are admitted to RIMC in January and July every year. The cadets' participation follows the three-year program at RIMC in the Central Board of Secondary Education's All India Secondary School Examination (AISSE). (CBSE).
The Vacancies at RIMC Dehradun:
Typically, each State is given one position. However, specific states with higher populations are allowed up to two openings.
The Fee Structure at RIMC Dehradun:
The fee structure at Rashtriya Indian Military College Dehradun is highly affordable, making it accessible to a wide range of students. It is around 38750 to 45670. In addition, the institution provides scholarships to deserving cadets based on their performance and financial background. 
The Curriculum at RIMC Dehradun:
The curriculum at RIMC Dehradun is designed to provide a well-rounded education that includes academic, physical, and military training. The academic curriculum is based on the CBSE syllabus.
The subjects they cover
Mathematics

English

Hindi

Social Studies

Science

Computer Science.
The cadets receive instruction in a variety of sports in addition to educational courses. They are-
Football

Basketball

Hockey

Cricket

Athletics

Boxing
The sports training is designed to develop cadets' physical fitness and agility.
The military training at RIMC includes
Drills

weapon training

map reading

fieldcraft
also, there are other aspects of military life. For example, the cadets are trained in leadership skills, teamwork, and discipline. Those are essential qualities for a career in the armed forces.
Infrastructure at RIMC Dehradun:
RIMC Dehradun is spread over an area of 138 acres and has excellent infrastructure for academic, physical, and military training. The institution has spacious classrooms, well-equipped laboratories, and a well-stocked library. The campus also has a gymnasium, swimming pool, and sports fields for outdoor activities.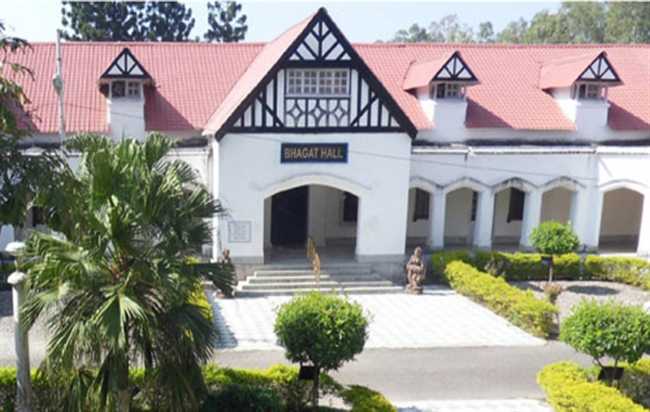 The military training infrastructure at RIMC includes an obstacle course, a firing range, and a mock drill ground. In addition, the cadets are trained in handling weapons like rifles and pistols and are also given training in unarmed combat.
Discipline and Code of Conduct at RIMC Dehradun:
Discipline is a core value at RIMC Dehradun, and the cadets are expected to follow a strict code of conduct. The institution has a zero-tolerance policy towards indiscipline, and any violation of the code of conduct can lead to severe punishment, including expulsion from the institution.
The cadets are expected to maintain high standards of personal hygiene and cleanliness. In addition, they must follow a strict dress code, which includes wearing their uniform at all times, maintaining proper grooming standards, and adhering to the institution's rules and regulations.
The cadets are also required to maintain a high level of academic performance and must achieve a minimum pass percentage in all subjects. In addition, they are expected to exhibit leadership qualities and take on leadership roles within the institution.
Life at RIMC Dehradun:
Life at RIMC is rigorous and demanding but also rewarding. The cadets are taught to be self-reliant, disciplined, and responsible. They learn to work as a team and to respect authority. In addition, the institution instills in them a sense of patriotism and a desire to serve the nation.
The cadets live in a hostel-like environment and have all basic amenities like food, accommodation, and medical facilities. They follow a strict daily routine, which includes time for academic classes, physical training, and military training.
The institution has a rich tradition of celebrating various festivals and events annually. The cadets participate in these events and are encouraged to showcase their talents in music, dance, and drama.
Career Opportunities at RIMC Dehradun:
RIMC Dehradun provides an excellent platform for young boys who aspire to join the Indian Armed Forces. The institution prepares the cadets for the National Defense Academy (NDA) entrance examination, the gateway to a career in the Indian Army, Navy, or Air Force.
The training and education provided at RIMC Dehradun also prepare cadets for a successful career in engineering, medicine, and management.
Conclusion:
RIMC Dehradun is a prestigious institution. They provide young boys with an opportunity to receive a well-rounded education. Their well-conducted education includes academic, physical, and military training. Moreover, the institution instills discipline, leadership, and patriotism in them. These qualities are essential qualities for a career in the Indian Armed Forces.
The cadets who graduate from RIMC Dehradun have a bright future. Also, they are well-prepared to take on the challenges of life. The institution has a rich legacy of producing some of the finest officers in the Indian Army. It continues to play a significant role in shaping the nation's future.